THIS MAN DIED, CAME BACK TO LIFE AND WON THE LOTTERY TWICE
Back in 1999, Bill Morgan, a 37 year old truck driver from Australia was living in a truck trailer. That's when he suffered a really bad accident which he fortunately survived. But that was not all, he got a serious allergic reaction to the medication he was given during his recovery, which caused his heart to stop.
He was clinically dead for complete 14 minutes after which the doctors were able to get his heart to run again. Usually, with a span as big as fourteen minutes a normal human's brain gets serious damage and the person nearly becomes a vegetable. But, miraculously, this was not the case with Bill. However, after his heart started running again, he was comatose and Doctors suggested that he be allowed to die.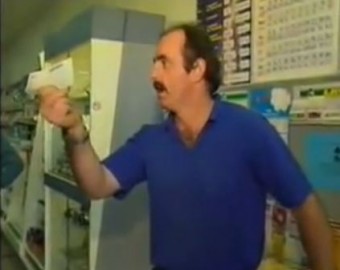 12 days later, to everyone's surprise, he came out of his coma and that too completely fine with no brain damage or any other problems at all. This near death experience made him reevaluate his life. He left his truck driver job and proposed his long time girlfriend, Lisa Wells and she accepted.
No doubt feeling pretty lucky not only to be alive, but to have his girlfriend agree to marry him, he bought a scratch lottery ticket. The result? He won a car worth about $17,000 Australian (today about $23,903 US and $25,099 Australian).
Normally winning a car isn't a big enough story to get the media to pay attention to you, but given that Morgan had recently been clinically dead for 14 minutes, the local Melbourne news decided to do a feature on him.
In the process, they asked Morgan if he wouldn't mind buying another lotto ticket and then scratching it off on camera for them, as a sort of re-enactment of his winning scratch.
He readily agreed. After scratching the ticket on camera, though, he stopped, looked at the camera, and rather than be excited and saying something like "I just won a car" as part of the reenactment, he instead said "I just won $250,000.  I'm not joking!" This was the jackpot for that particular scratch lotto he was playing (today about $369,102 Australian or $351,526 US ).
Needless to say, the reporters on scene got more than they bargained for during the reenactment, as did Morgan, who immediately called his fiancée to tell her the good news about his win and that they would now be able to get a house.
As for his fiancée, of the second win, she told the media, "I just hope he hasn't used all his good luck up". Little did she know that he used a system to win 2 lotteries in a row.