These 9 Photos Will Show You How The World Is Changing, And It's Shocking
Glacier National Park, in Montana, is one of the most spectacular places to view glaciers on earth. Yet, these ancient structures of snow and ice are gradually disappearing: and it seems there's not much we can do to stop them.
The same problem that's melting the glaciers in Glacier National Park is affecting glaciers all around the world as temperatures rise globally. It's hard to explain just how big the change is; luckily, we have photographic evidence of just how majorly the landscape is changing. Here are 9 side-by-side photos of glaciers as they once looked, versus glaciers today.
1.) Grinnell Glacier

2.) Ice Cave on Boulder Glacier

3.) Swiftcurrent Glacier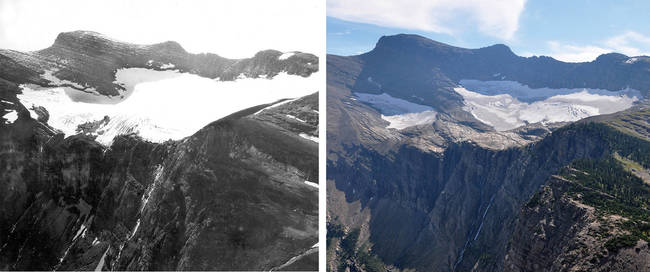 4.) Boulder Peak on Boulder Glacier

5.) Iceberg Glacier

6.) Cheney Glacier with view of Cheney Notch

7.) Grinnell Glacier at Elro's Rock

8.) Boulder Glacier taken near Boulder Pass

9.) Shepard Glacier